A One's Cocker Spaniels
"Sådan skal en cocker se ut!"

Ballerup, Denmark, September 18, 2004 - Copenhagen Winner 2004



Breed Judge: Mrs Helle Dan Pålsson, Kennel Dan-L's
Trainee Judge: Mr Michael Tranholm, kennel Pilula's
Group Judge: Mr Ole Staunskjær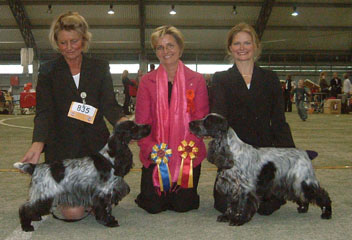 Best of Breed/3rd Best in Group/Best Open Class Dog/CACIB/KBHV2004:
9-year-old VDHCH DECH SU(u)CH NordV2003 Midnight Train Vom Rauhen Holz
Thought we were 100% detoxified, then we had this ONE relapse.
Best of Opposite Sex/Best Open Class Bitch/CAC/CACIB/KBHV2004:
SU(u)CH A One's Rapunzel Vom Rauhen Holz
(VDHCH DECH SU(u)CH NordV2003 KBHV2004 Midnight Train Vom Rauhen Holz &
DTJCH DTJBSG 2000 DTEJSG 2000 DT BSG 2001 2003 EUSG 2002 DTCH VDHCH LUXCH Louisa Vom Rauhen Holz)
Owner: Ann Swärd
Best Champion & Senior Dog/2nd Best Dog/Res Cacib:
DKCH DCHVDH KLBCH SCH Tears of Joy Littlesunshine
(DKCH KLBCH Dasanci Herrow Star & Cita)
Owner: Vibeke Jørgensen
Best Champion Bitch/2nd Best Bitch/Res Cacib:
Carillo Cover Design
(NCH Carillo Cover Print & NCH Carillo Cover Up)
Owners: L Andreasen & Michael Kristensen
2nd Best Open Class Bitch/3rd Best Bitch:
SU(u)CH NUCH LPI A One's Pearl Harbour
(Travis Vital Spark & VDHCH DECH FINUCH WW98 DT BSG 97 Moonlight Mattie Vom Rauhen Holz)
Owner: Suzanne Borg
Best Junior Dog/3rd Best Dog/CAC:
Georgy Vital Boy Blue Vom Niendorfe
(Travis Vital Spark & DCHVDH Debbie Vom Niendorfer Gehege)
Owner: Hans Andersen
Dogs 15-24 months/2:
Barecho Exotic Spice
(SU(u)CH NUCH Travis Able And Willing & Usemade Hat Trick)
Owner: Vibeke Langballe Jørgensen
Best Junior Bitch/CK:
C´Est Si Bon Cri Du Coeur
(SU(u)CH Travis Ferrari & Travis Cast No Shadow)
Owner: Hans Andersen
Best Bitch 15-24 months/1:
Muscha's Dark Lady
(Northworth Earth Stone & Sheerclever Something Nice)
Owner: Lisbeth Christensen
Best Working Class Bitch/CK:
Kraglunds Go On Little Arnidaughter
(SU(u)CH Quettadene Lancelot & DKCH SCH DKBRCH NORDCH KLBCH INTCH Dan-L's Return My Tan)
Owner: Egon & Tove Rasmussen
Best Senior Bitch:
DCHVDH Iorrendrill's Dear Prudence
(WFSG90 VDHCH DKCH DCH HRCH INTCH Dan-L's Danfedder & Iorrendrill's All My Love)
Owner: Pia Elmelund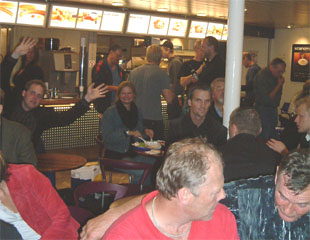 Left: Saturday night and I ain't got nobody ... (on board Tycho Brahe, Helsingør-Helsingborg)
Right: Mr Michael Tranholm, Kennel Pilula's, now ready to judge COCKER SPANIELS!