A One's Cocker Spaniels
Australian Champion
SU(u)CH DKUCH SV05 A One's Eleonora
"Cocos"
On August 25, 2010, Cocos won the Bitch CC under judge J Palmer and the day after Bitch CC/BOB/BIG under Richard Stoate.
And on October 2 these incredible girls won Best In Group under Mr T McDonald thereby finishing off Cocos's Australian Champion title in fine style. Are we proud!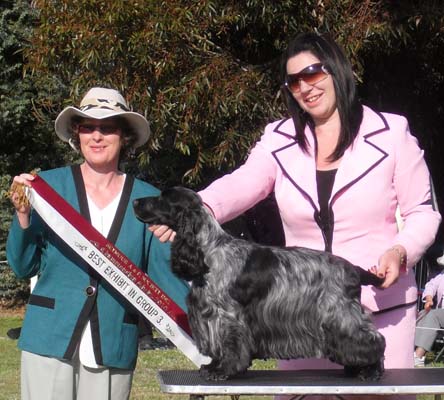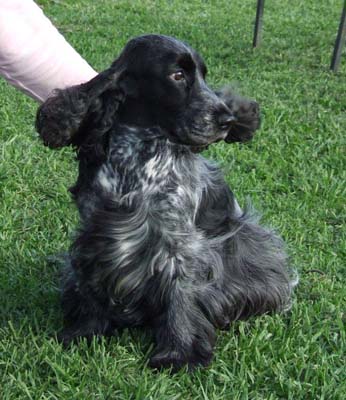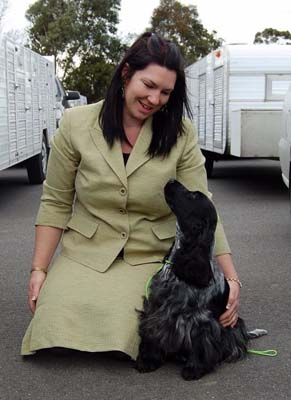 photos Belinda Petrowsky
Arrived in Australia on May 6, 2010, in one piece. With Zlatan.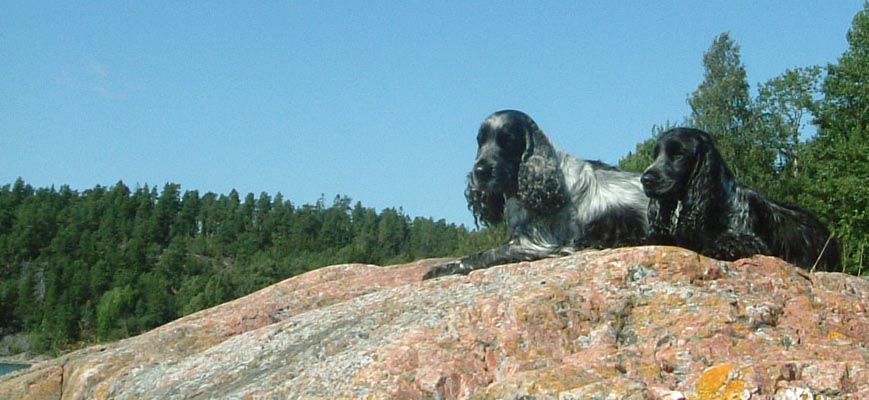 Cocos and her grandfather Hansi
HDA pedigree OptiGen-tested prcd-PRA/FN Normal
born September 25, 2003
Qualified for Crufts 2005 or 2006 and 2007
Top Junior at Stockholm Winner 2004
Best of Breed Stockholm Winner 2005, youngest among the top 4 winners 2005
Frank Kane: "Very cockery on the move."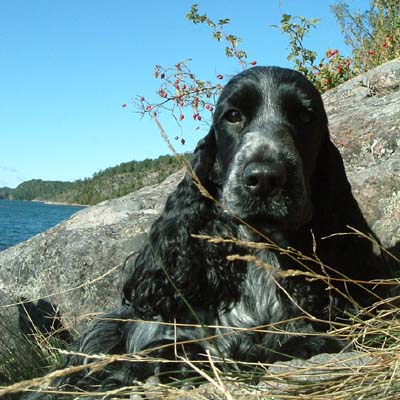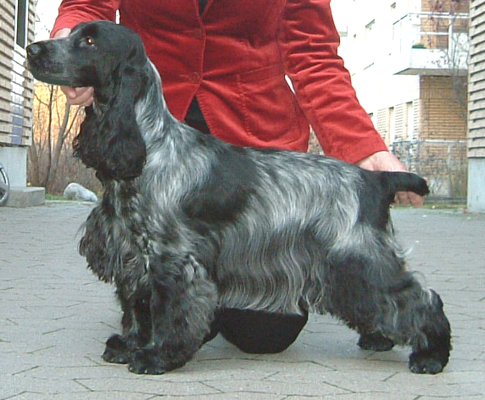 Cocos in November, 2004 (photo Carl Philip Swärd Olsson)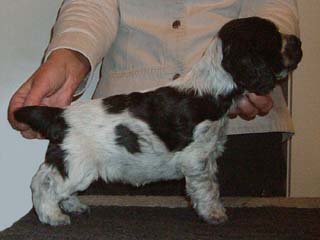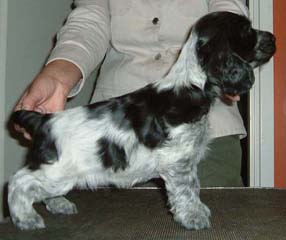 Litter sister & brothers are A One's Teodora, A One's Picador, A One's Matador, A One's Troubadour OptiGen A1& A One's Toreador
These babies are half sisters/brothers to my favourite
DTJCH DTJBSG 2000 DTEJSG 2000 DT BSG 2001 2003 EUSG 2002 DTCH VDHCH LUXCH Cocker of the Year 2001
Louisa Vom Rauhen Holz, dam of A One's Rapunzel Vom Rauhen Holz OptiGen A1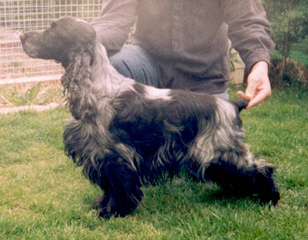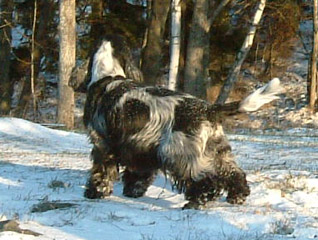 Cocos' s father GBSHCH SPCH Lennoxgrove Sadly Sober (photo Helle Dan Pålsson) &
mother VDHCH SU(u)CH DT BSG 2000 WW 2003 Blue Satin Forever A One's OptiGen A1 in 2003,
at 9 resp 5,5 years. I see both Lewis and Saga in Cocos, very clearly!
Cocos won her first CAC at Hammarö on November 27, 2004, under Mr Bertil Lundgren.
On December 12, 2004, she was Best Junior under Mr Paul Stanton, thereby qualifying for Crufts & 3rd Best Bitch.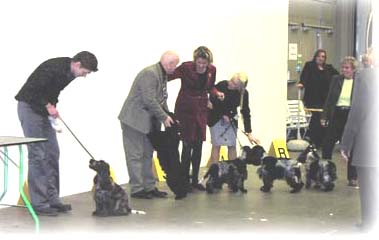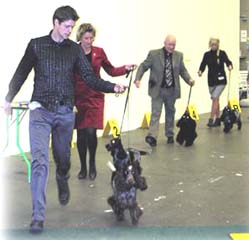 Stockholm Winner December 12, 2004, Best-Bitch-class
Choc Ice Birds Of A Feather, Matchpoint's Where You Belong, A One's Eleonora, SU(u)CH Timanka's Ride The Broom & Cockados Sweet Thing
photo Anna Johansson
At Uddevalla on April 3, 2005, Cocos won her 2nd CAC/2nd best bitch under Mrs Carolyn Muirhead (88 entries)
Cocos won BEST IN SHOW at Nybro under Mr Börje Johansson, Allert's, on April 17, 2005.
On April 23, 2005 Cocos won her 3rd CAC/2nd best bitch under Mr Carlos Saevich at Västerås (86 entries)
On June 11, 2005, Cocos won Best Bitch/CAC/CACIB - again qualified for Crufts 2006 - at Hillerød, Denmark, under Mrs Ann-Lise Nylin.
On August 14, 2005, Cocos won CAC/2nd Best Bitch under Mr John Hartigan at Nyköping National.
On September 4, 2005 Cocos won her 6th CAC/2nd best bitch, only beaten by her best buddy
SU(u)CH KBHV 2004 A One's Rapunzel Vom Rauhen Holz (BOB/BIG2), judge was Louise Dorr, Australia.
On December 10, 2005, Cocos won the last CAC for the champion title SU(u)CH, DKUCH/CACIB and Swedish Winner 2005 (BOB/Res BIG) pictured below.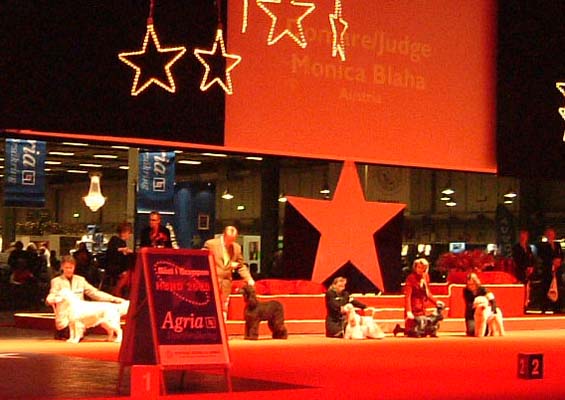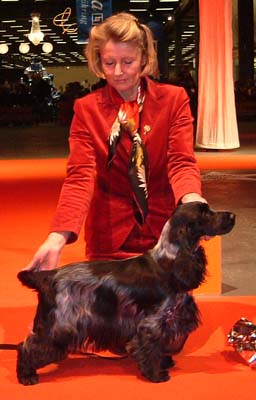 ... thereby beating her 10-year-old grandpa VDHCH DECH SU(u)CH DKUCH NORDV03 KBHV04 Swedish Winner 2005 Midnight Train Vom Rauhen Holz in the BOB-finals (below)!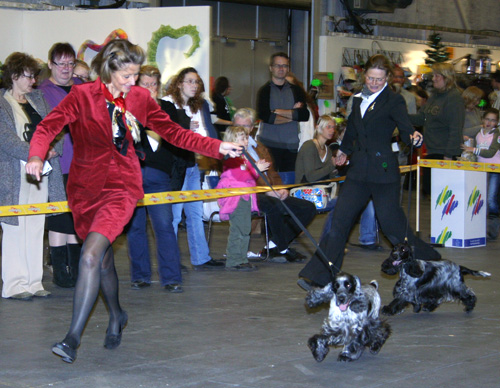 Photo Anna Johansson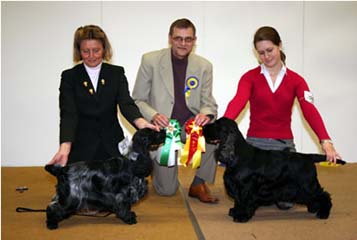 Cocos winning BOS at Uddevalla on April 2, 2006.
BOB is SU(u)CH Line Sam Hot Black Pepper.
(Photo Madeleine Ivarsson)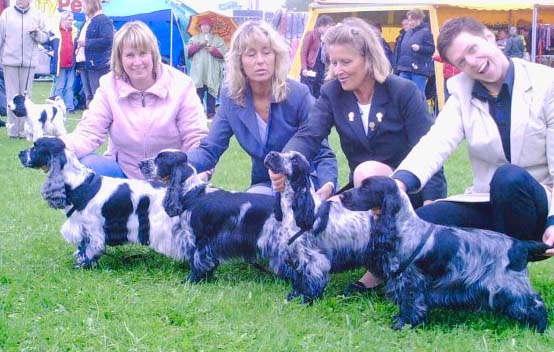 A One's breeder's group at Skokloster May 20, 2006, one Mäusi son plus three Saga daughters (all different sires)
photo Christina Hofgren Olofsson
On June 3, 2006, Cocos won Best Bitch at Österbybruk under Mr Jostein Halvorsen, Norway, who wrote:
"3,5 år (Oops, my mistake, Cocos is 2,5!), superfeminin. Vackert välskuret huvud med riktigt uttryck. Super outline.
Bra revben. Passande vinklar bak gör att hon rör sig harmoniskt. En fantastisk champion!"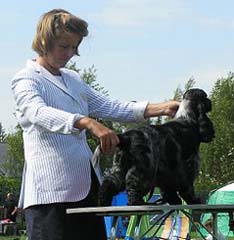 Cocos at Vännäs 2006 (photo Anna Wikström)