A One's Cocker Spaniels
Hallstahammar January 30, 2005
Another Best Progeny Group In Show!
"Mycket vacker, jämn grupp. Eleganta och välbalanserade. Fina huvuden och bra uttryck. Utmärkta pälsar. En grupp med mycket kvalitet."
Thanks all for staying!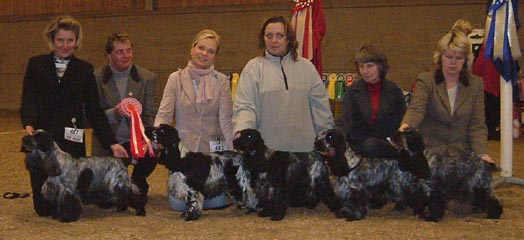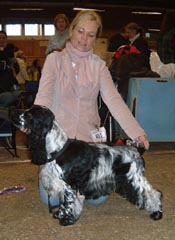 Mr Patric Ragnarsson with his BIS Progeny Group & Lordlike's Norman (Best Junior Dog)
VDHCH DECH SU(u)CH NordV03 KBHV04 Midnight Train Vom Rauhen Holz with his beautiful babies:
Lordlike's Norman (Best Junior Dog)
(out of Carillo Cool Girl & owned by Veronica Angelryd)
Murbräckans Al Capone
(out of Murbräckans Merry Snowflake & owned by Cathrin Krause)
Westerner Beautiful Mind (2nd Best Open Class Bitch/5th Best Bitch)
(out of Westerner Rose For Lady Blue & owned by Kristina Sterneborg)
Backhills Harmony And Piece (Best Open Class Bitch/3rd Best Bitch)
(out of Backhills Tribute To Amaretto & owned by Susanne Berggren)
Congrats to BOB/first CAC Winner Mainel's Principals Nose, (owner Carina Tännström) and
BOS/CAC/BIS Veteran Winner Westerner Play For The Gallery, Champion today, 10 years old in 2005 (owner Kristina Sterneborg)!
Breed judge Mr Paul Stanton gave only three dogs (all particoloured) a CK and at least 25 cockers (out of 66) a 2nd in quality.
Four of the five best bitches were particoloured.