A One's Cocker Spaniels
LUXJCH 2001 DEJCH VDHCH DECH DT BSG 2002
A One´s Of Course
OptiGen prcd-PRA A1 & FN Normal
"Fritsy"
pedigree
Saga´s son & Hansi´s grandson
Presstopp! Fritsy is the proud father of SEVEN beautiful & strong dog puppies born on February 2, 2004!
Their mother is lovely DTJCH DTJBSG 2000 DTEJSG 2000 DT BSG 2001 2003 DECH VDHCH LUXCH EUW 2002 Cocker of the Year 2001 Louisa Vom Rauhen Holz!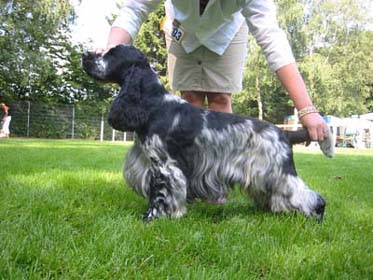 Fritsy 2,5 years
HD-free and eyes clear!
Fritsy is at stud for sound and healthy quality bitches (Dortmund).
Mrs Doris Junge, Germany, is the happy and dedicated owner of Fritsy.

Fritsy won the title Deutscher Bundessieger 2002 at Dortmund on October 18, 2002.
Fritsy won BEST IN SHOW
at Köln on August 18, 2002, under Christa Dierolf, Uwe Fischer & Susie Svoldgaard!
At the European Spaniel Club Show at Nürtingen on July 28, 2002,
Frisy was BEST DOG (150 Cocker Spaniels)!
Fritsy won BOB/BIG & DTJCH Anw
at Straubing International, Germany, on June 23, 2001,
under Dr Tamás Jakkel, Hungary! From Junior class!
On July 8, 2001, Fritsy won his first
DT CH Klub Siegeranwartschaft & VDH Anwartschaft
at the Jagdspaniel Club Show at Boehl-Iggelheim, Germany,
under Dr Peter Beyersdorf
- at 15 months!
On August 5 he did it again in Koeln - and on August 11 in Berlin!
His 2nd & 3rd DT CH Klub Siegeranwartschaft & VDH Anwartschaft and BEST DOG - at 16 months!
Born March 24, 2000

Sire: INT FIN EST LTU BLR CH FINW94 LTUW -99 Fools Alibaba
Dam: DT BSG 2000 Blue Satin Forever A One´s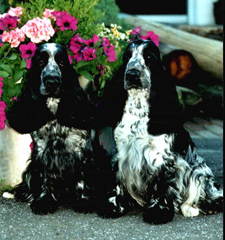 Fritsy & his mother Saga
Fritsy made his debut on April 22, 2001 at Obernkirchen under Mr Ado Cornelius and gained the
German Junior CAC and was also BEST DOG!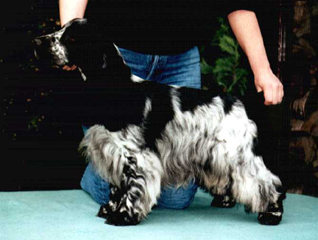 at 12 months! At the same show his kennel sister
A One´s Spark Another Pearl
(who produced her first litter on June 8, 2001)
was
BEST IN SHOW
under Mrs Regine Sommer!