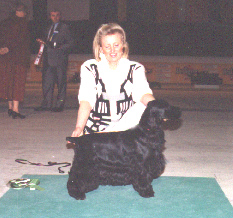 Macho´s son BEJSG95 VDH EJSG95 A One´s Scirocco of Orinoco had, in spite of his young age, already won CCs at home and abroad, when tragedy struck.
Macho is the sire of
DTCH VDHCH A One´s Cold November Rain
SUCH LP A One´s Tess of the D´Urbervilles
A One´s Mr Boombastic
A One´s Ulysses of Orinoco
Shavian A One´s Heloïse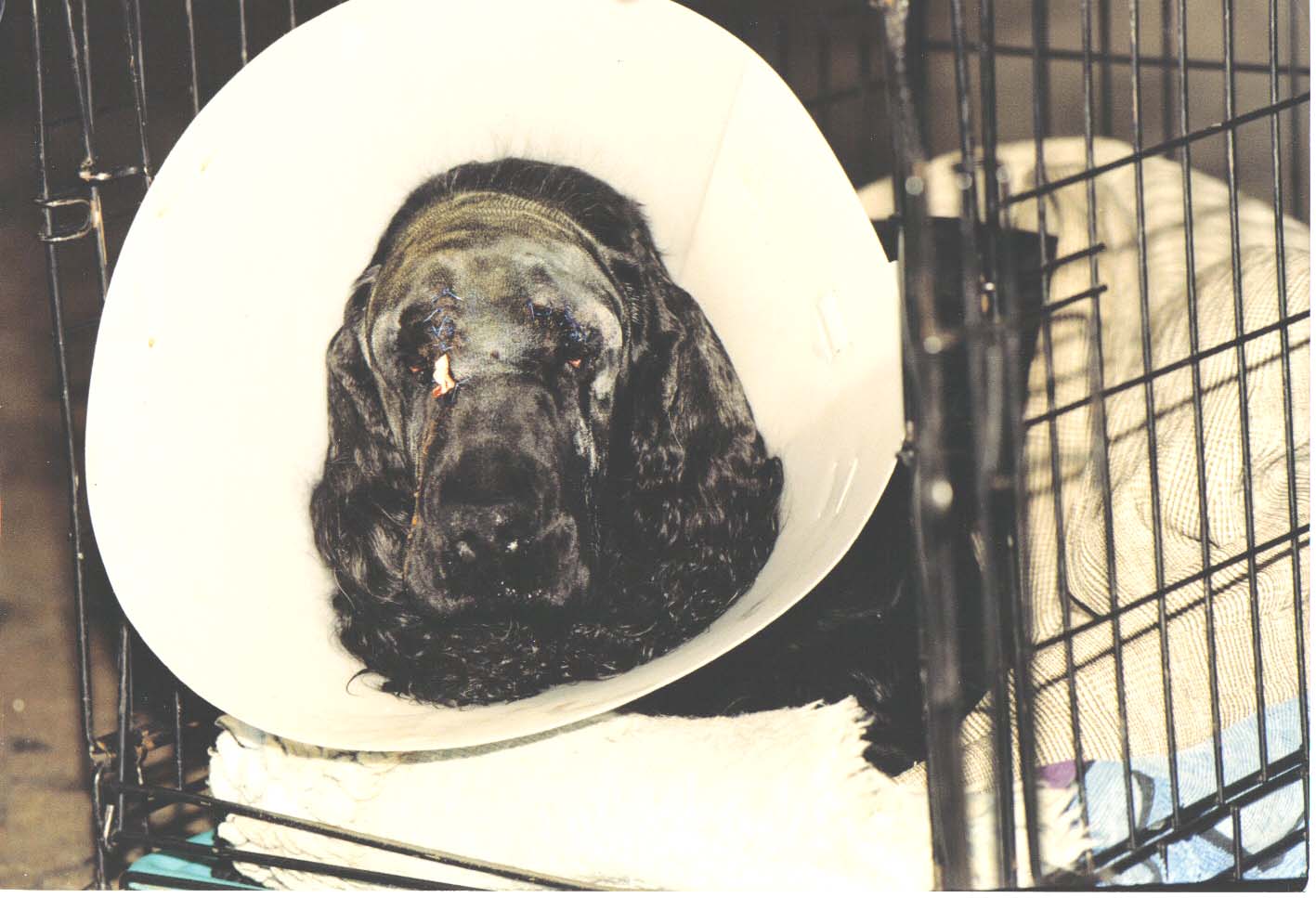 Bern WDS 1994. Macho had to be acutely operated on in Bern, Switzerland, after beiing badly bitten by his kennel mate Charbonnel A One's Tonka,
cost me two months pay but they did a very good job. I had consulted the vet in Stockholm before boarding the plane to Zürich,
actually husband of eye specialist Kristina Narfström, who gave Macho an injection and ok to go, no hard feelings, from outside there was just a tiny hole.
The Bern vet discovered 22 holes after Macho's face skin was turned inside out.
A huge thank you to the Stockholm photographer (professional) of this picture, who accompanied me on the train to Zürich and on the plane,
making sure I got home all right, seeing I was in shock, serving me beers (which I usually never touch) in the summer heat.
Every time I think about this life experience of mine, I start shaking, neither so much because of what happened between Macho and Tonka nor my Bern ordeal
but because of insinuations on the website of Macho's, Cougar's, Cyber's and Tonka's breeder, that I did not take good care of my Charbonnel boys.
My son Wilhelm and I were badly bitten by Charbonnel A One's Cougar.
Tonka even attacked a black bitch related to him in the car on his way to mating her, no other male being around.
However I'm glad I am the only one in the world, who failed to live a normal family life with my Charbonnel boys.
I am quite aware of the fact that it's not ok in the doggy world to be open about bad temperaments due to Omerta,
ie Breeders' Code of Silence, but I have my limits, "Don't tease the dog, he might bite you."
Provoke me a little more and I might reveal the real truth behind the temperament problems of my Welsh imports.
I never heard a growling sound from my parti boys, not even with a bitch on heat in the same room.